from my sweet friend Betty of
Primitive Betty's
has given me another "Make My Day" award! Thank you chicklet...I just can't get over receiving these! =0]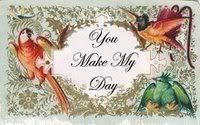 She also tagged me to tell 5 more "Odd Things/Things You May Not Know About Me". Soooo.....heeeere we go!
1. The only "good" jewelry I own in my wedding band and the amethyst ring I got for my birthday this year.
2. I have never owned ANYTHING designer except cologne.
3. I LOVE the smell of good rich black dirt!
4. My very first celebrity crush was Donny Osmond.
5. I like the Lawrence Welk show. =0]
I am tagging and awarding my friends:
Karen@Sweet Necessi-Teas
Cathy@Treasured Heirlooms
Sharon@C'est Chouette
Amy@The Cottage Gate
Valerie@Wanderlust & Pixie Dust
I also have another bit of good news, but I'll make it another post! Luvins!