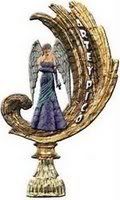 It's my pleasure to announce that I have been blessed with the Arte y Pico Award, given by Carrie of
Noelle Garrett Designs
. It's truly an honor to be included in such an awesomely talented group of women! Thank you Carrie! =0]
Here are the rules:
1. You have to pick 5 blogs that you consider deserving of this award for their creativity, design, interesting material, and also contribute to the blogging community, no matter what language.
2. Each award has to have the name of the author and a link to his/her blog to be visited by everyone.
3. Each award winner has to show the award and put the name of and a link to the blog that presented it to him/her.
4. The award winner and one who has given the prize have to show the link of "Arte y Pico" blog so everyone will know the origin of the award.
5. You must also post these rules.
Now, are you ready. . . the winners are
1.
Sandra of Sandra Evertson
2.
Sita of Silver Spoon Scraps
3.
Theresa of Cottage Violets
4.
Michelle of Rose Petals and Blooms
5.
Dawndiggity of Dawn Houser
It tickles my toes to present all you girlitas with this award! I'm always inspired by each of you in so many ways!