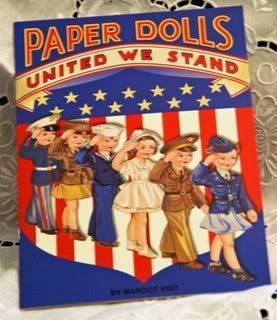 Theresa at Cottage Violets
is having her very first blog giveaway EVER! In celebration of Independence Day she's offering this fantastic opportunity to win a $50 gift certificate to shop at Cottage Violets. Just leave her a lil note on why you love the US, and you're entered! All the details are on her blog...pop on over and show Theresa some luvins!
She's also offering these reproduction paper doll books and donating half of the purchase price to help our disabled veterans. Theresa is such a kind soul and wonderful friend!