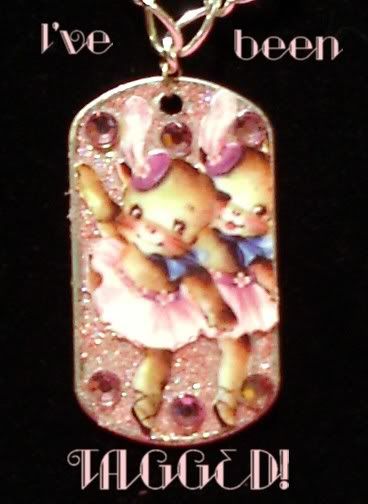 My sweet friend Inka over at
Inkling's Designs
has tagged me to tell ya'll 7 things about me that you don't already know. Hope you're up for this.....Heeeeeeeeeeeere goes!
1.) When I was a pre-teen, I had the most GINORMOUS crush on my cousin Curt! He was the cutest boy ever....untiiill Leif Garrett came along! lmao ;0)
2.) I still like to walk barefoot in the mud.
3.) I tried to prune a rosebush once with grass clippers, which resulted in them sticking straight up from the top of my right foot. I still have the scar.
4.) I secretly covet any woman who owns a Mary Frances foof bag!
5.) When I was very little, I thought green onions tasted hot. As my Daddy planted the onion sets, I would walk behind him fanning with a little paper fan so they'd be "cooler"! lol
6.) I love old school crank pencil sharpeners!
7.) I've had my tongue pierced....twice.
Now I have to tag 7 friends to join in the fun....and the winners aaarrree:
Sita at
Silver Spoon Scraps
Janet at
Janet's Creative Pillows
Lori at
Katie's Rose Cottage
Theresa at
Cottage Violets
Carrie at
Noelle Garrett Designs
Carolyn at
The Odd Sparrow
Francie at
The Scented Cottage