It's another Show and Tell Monday at Make Mine Pink! Some of our pinkadees have been doing a bit of "Curbside Chic" shopping.....and I have to say, I'm one of them! lol
I found an old ratty (DEFINITELY needed to be by the dumpster!) artificial Christmas tree with the prettiest pink Christmas decorations you ever did see---
out in the rain
! There were three of these divine little pink glittered glass birds. Their poor feather tails were soooo scraggly, but I knew I could replace them if need be. They clip right onto the tree branch, but I don't think they're vintage. Oh, and I didn't replace the feathers after all. They remain a bit ruffled, but I think that makes them even more charming!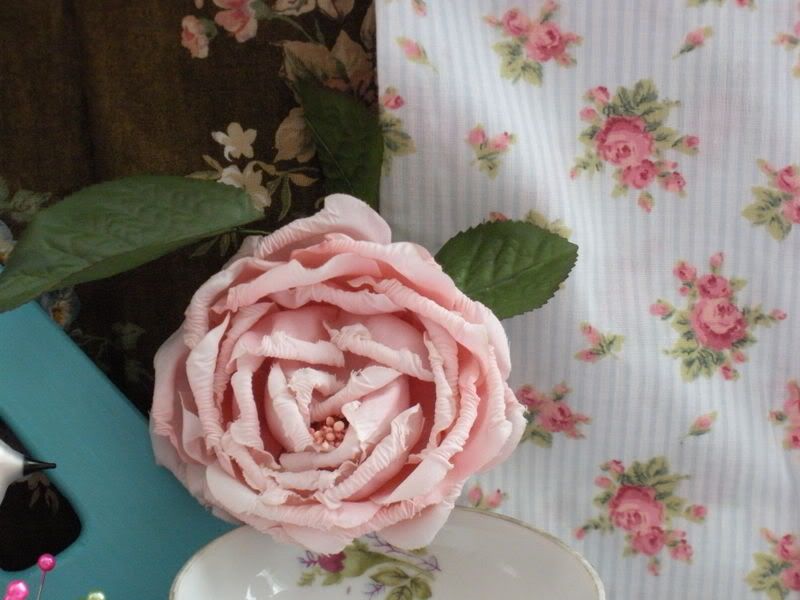 There were also four of these paper roses hot glued RIGHT to the branches of that ugly little tree! Ever so carefully I removed these and was able to save all four in perfect shabby condition(yep I carried the entire tree up my stairs just to get these!).
Here's a small vignette I've created which includes a few of the remaining Christmas ornaments...light pink glittery, light pink opalescent, and a beautiful rose. The fabrics came from my stash and are intended for aprons. The wooden letter "A" is a little project I started, but now I think I want it to "bee" pink. ;0] I'll stamp on my signature bee in brown and bling it ip too! The teacups will be made into pincushions, with all the requisite embellishments. And speaking of pincushions, I want to tell you about the one you see in the pic.
That's my pincushion I use daily, and it's dear to my heart. You see, the cushion part is a snippet of an old tattered quilt made by my Great Grandmother Helen Brown.
A few years ago, I made my brother's girls Christmas stockings from the salvagable areas of that well loved by several generations cover. (We used to squabble over who'd get to snuggle down under that softest of comforts when we spent the night with our Memaw--she was Gramma Helen's daughter and my Daddy's Mom.) But I digress! lol
I blinged and foofed those stockings up in true Princess style! My sister in law says the girls eschewed their Disney Princess stocking for their "Andie Made" ones, so I think I did okay with them. lol But I just could not bear to throw away all the little scrappy parts of that quilt! It was like throwing away snippets of my family. So I picked through them and found just the right bit with lovely faded pink flowers on a white background. I filled the bottom of an old votive holder with white and pink faux pearls, stuffed my quilt snip nice and firm, and VOILA! A little piece of my Gramma Helen that makes me smile every day. =0] Luvins to ya'll! xoxo