Dianne
for giving me the "Honest Scrap" award. I've thanked her, added the "Honest Scrap" image and linked to her blog (just click on her name to visit her) and now I gotta list ten honest things about me, then tag 7 bloggity friends.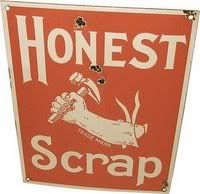 And heeeere we goooo....
1. I'm a fabric hoarder.
2. I'm a rescuer.
3. I'm starting to believe I actually am pretty.
4. I hide my feelings too often from those that matter most to me.
5. I SUCK at communicating with my loved ones!
6. I'm much too nerdy for my own good.
7. I'd love to live in a cottage by a stream with a wildflower/veggie garden and soft green grass between my bare toes!
8. I tend to believe in the best of people but expect the worst of them.
9. I went to my Senior Prom without a date, and the only dude that danced with me was Coach Ward!
10. I HATE liver!
My awardees are:
Gail-Gail Friend Designs
Georgia-Grandma G's
Roxie-Candylights/Jorabeel's
Lori-Katie's Rose Cottage
Carrie-Noelle Garrett Designs
Susie-The Polka Dot Rose
Cathy-Treasured Heirlooms
Lookin' forward to y'alls lists! xoxo Andie
(Edited to add the last three true things...sheesh...sometimes I'm sooo ditzy!)