Sweet words for a crafty gal, especially when they come from none other than
Heather Bailey
herself! She held a blog giveaway where she asked the entrants to tell about their very first sewing experience ever. Check it out...I won one of Heather's very own Fresh Picked Pin Cushion patterns, as well as her sweet lil strawberry pin cushion kit!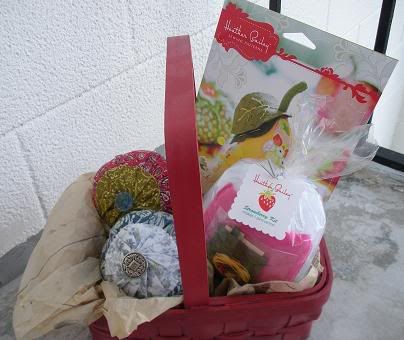 I can't wait to whip up some of these. And yes...yes that IS pattern tissue salvaged from the pattern bad bad kitty Pepper managed to remove from its envelope and shread! lol ***NOW HEAR THIS PEPPER! I better NOT catch you anywhere REMOTELY close to my newest pattern addition, or your furry lil rump is Chop Suey!***
****The last sentence is purely a joke!
Y'all stay tuned for more goodies coming soon, and please go visit Heather by clicking on her name! You'll love her happy lil bright spot! Thanks for the crafty goodness cupcake!
xoxo,
Andie