It's been entirely too long since my last post...where on earth DOES the time go?! I have been working on several projects, each different and beautiful in its own right. This peg hanger is the first one I've finished, so I'm offering it up today. All decked out in plum, I think it's appropriate for the cooler Fall weather, don't you?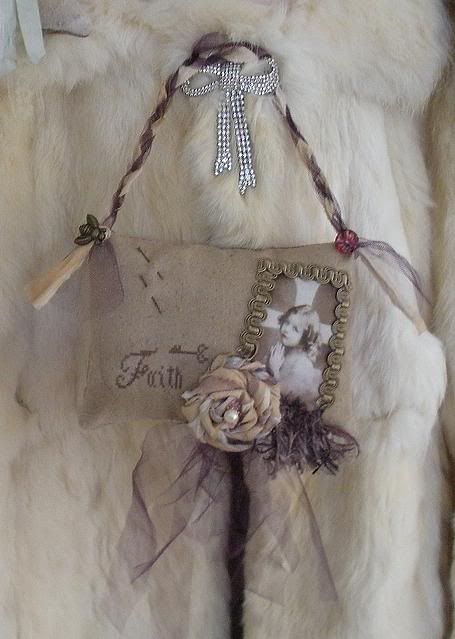 Completely handcrafted by me, with special touches for the originality you desire, this piece measures approx. 4 1/2" H x 6 3/4" W. There is a sweet vintage image of a child angel praying (framed in vintage trim), a beautiful rolled muslin rose with a handbeaded center, a bit of tulle and furry trim adorning the piece. The word "Faith" is cross stitched, and there are also rusty dressmaker pins, and vintage style buttons adding charm. The back is a beautiful teastained cotton calico print, as pictured below.
Price is $25 =$4.95 USPS Priority Flat Rate Shipping. Please click on the button if you'd like to purchase. Thank you so much!