Hello dolls! Boy, I gotta tell ya...life sure does whomp us over the head but good from time to time. My latest whomp-fest started back in August, when my gynecologist noticed that what I thought was just gradual weight gain due to thyroid issues was in fact what turned out to be a GINORMOUS fibroid tumor. Many referrals and consultations, a CT scan and a full hysterectomy, and a whopping 31 LBS. later (??!??!?), I'm happy to report that I am feeling better than I have in years! I'm healing remarkably well, although I'm still a little sore-ish and tired-ish from time to time. Anywho...I just wanted to let y'all know there IS a legitimate reason for my recent prolonged absence! :)
Today I was awarded with this tag by crafty chicklet
Blue Crayons
.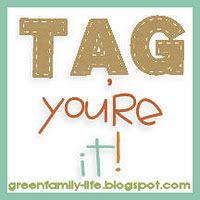 The instructions are:
1. Post the button.
2. Tell 10 things about yourself.
3. Tag 5 bloggity chicklets you'd like to know a lil' sum-sumthin about.
So heeeeere goes! ;)
1. I secretly wish I could be a real life Princess.
2. I always wanted older siblings.
3. I wanted to be a Broadway singer when I grew up.
4. Cottage cheese and tomatoes is one of my favorite comfort foods EVER!
5. I think every one who so desires should visit Paris at least once in their life.
6. I'm not as afraid of spiders as I used to be.
7. I run with scissors and/or glitter! :D
8. I often wish I was less an Earth Momma and more of a Glam Diva.
9. I wish I'd paid more attention when my Mom and Memaw were trying to teach me to sew clothing.
10. Chocolate's divine, but I'd rather have cheesecake...TRUE STORY!
I'm tagging these fab girlitas and can't wait to learn more about them! :)
Dawn at the Feathered Nest
Pinky at Much Ado About Nothing
Heidi at Sugah Beez
Dianne at Mama's Pocketbook
BeBe at Peaches and Dreams
I hope you enjoy learning about them to, and by all means, pay each one a visit if you please! You never know what beauty you may stumble upon! xoxo AndiBee